Outlook Olm to Pst migration means converting the files of Mac Outlook (Olm) to Pst files for Windows Outlook. It's something that is incredibly hard to pull off right, specially by less experienced users. The help available online doesn't come to the rescue much, since it assumes at least a little bit of knowledge or previous experience with data migration. If you have none of those, it's going to be a steep climb.
There are no in-built, official feature in Outlook (both Mac and Windows) that can migrate the data itself or help you convert Mac Olm to Pst. What you can do is sync your data to any email server (that allows IMAP) and then sync it back to Outlook for Windows. This is, however, not a good approach, since it takes innumerable hours and is not at all appropriate for big databases.
That brings us to the only left solution – using a third party software that helps you convert Outlook Olm to Pst files. These tools can be downloaded from software distribution websites or directly from the developers' websites.
Introduction to migration tools for Mac Olm to Pst Conversion!
Tools to migrate emails from Mac Outlook to Windows Outlook are commonly called Olm to Pst Converters because converting Mac Olm files to Pst is the most popular way of exporting your emails to clients. These converters require users to first archive data to Olm files. Then a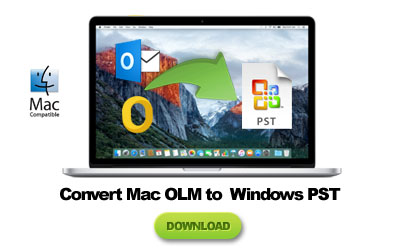 user has to load those files to the converter, which then proceeds to extract information and converting it for Pst format.
This extraction and reconstruction of data from Olm to Pst is how most people perform email migration, not counting manual email migration method (IMAP severs syncing). Once the Pst files are ready, users import them to Windows Outlook.
Most of them have a button to load an Olm file (one at a time), few other options and controls, and a 'convert' button to start the conversion process. They aren't very sophisticated looking from the front-end perspective, but the back-end where the algorithms do their heavy job, is very complex. Most of the tools fail to abstract the process for the basic end-users, resulting in an obstructing interface with no direct, smooth approach.
You could find many of these Olm to Pst converters in market. Some of them may offer a good, simple interface for seamless conversion, many of them don't. Some of them are very expensive, and you could even find freeware. But speaking generally for these software, there are many shortcomings that can be a big roadblock for transferring Outlook Olm to Pst.
Their Shortcomings when
Converting Outlook Mac Olm to Pst

Windows!

Most of the Olm to Pst Converter can have one, more, or all of these shortcomings mentioned below. This is the reason why the job of migration can be a jam for your productivity, specially when you are switching to Windows Outlook without preparation.

Taken together, it is getting common for people to switch their email client, but it's not yet a very well known activity, as compared to other frequent tasks such as installing and using an email client Outlook.

Third party tools don't offer much relief either way. Here are some of their flaws –

Not easy interface – These Mac Olm to Pst Converters are not exactly the most user-friendly software programs. The interface design is poor, and the features and instructions don't make sense to a common user. Some developers aim attention only at creating conversion algorithms, and the interface design lose focus.

Not thorough – They are not thorough. The Pst files do not contain all the information that original source Olm files contain. These tools fail to extract information completely. Some that do manage to convert everything, fail to preserve the integrity. That means, even if the data is converted, it doesn't have the same properties, meta-data, structure, etc. Some of the most frequently lost or damaged data elements are – Folder hierarchy, non-English text, embedded images, email headers (to, cc, bcc, subject, from, etc.), attachments, etc.

Loss of data integrity is one of the biggest concern in Outlook Mac to Pst migration.

No Flexibility – You won't find much controls or settings to convert Olm to Pst in your own way that suits your needs. Most of converters just let you load one Olm file at a time and then converts it to Pst file. There is no other way to control important parameters or situations – such as extremely large Pst files, unnecessary item conversion, multiple Olm files, etc. In essence, there is no flexibility.

No Support – There are, in proportion, less major software companies that offer solutions for converting Mac Olm to Pst files. Most of the tools you will find online seem to have no updates since years and it looks like the developers have sidelined them. This means you won't get any support in case the process came to halt by some of their flawed programming, or worse, it corrupts your files, or you have any queries. A good support is almost like a required feature when it comes to converting Outlook Mac Olm to Pst files.

"Olm to Pst Converter Ultimate" – and The Differences

If you have a small database with one or two folders, you might be able to get away with the current state of technology of email migration tools. But, If you have a big database, trying to convert Mac Olm to Pst is not going to be a picnic with these tools, to put it mildly.

However, it's time to let go of things that don't work, and instead talk about things that work.
"Olm to Pst Converter Ultimate" is that thing.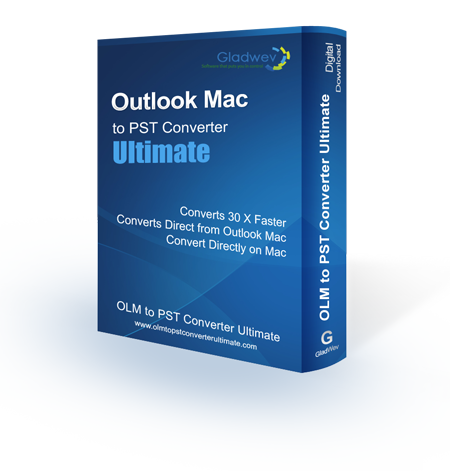 It's a tool by Gladwev Software that brings the easiest, quickest, and the most effective method for migrating emails, without any flaws of ordinary tools as mentioned above.
What are the differences between "Olm to Pst Converter Ultimate" and the ordinary ones?
It doesn't need Olm files. It detects the data from your Mac Outlook identity folder itself and then convert it to Pst directly. No need to archive data to Olm files.
This feature alone makes the difference as striking as the difference between day and night. Due to the direct approach of auto-detecting database, all the former issues with converting Mac Outlook Olm to Pst simply disappear into thin air, ensuring a smooth and user-friendly transfer of data.
Let's take a look at the issues mentioned above, and how they look in contrast to "Olm to Pst converter Ultimate".
Intuitive, User-friendly, and clean Interface – 'Ultimate' delivers a premium first-rate experience with its interface. Developed with the mindset that a 7th grader would be using it, the interface simply manages to make the process effortless. Talking about Olm to Pst migration, this is an achievement of highest degree. The tool manages to eliminate many manual actions and by putting them on "intelligent" mechanism that further simplifies the process for you significantly.
Impeccably Thorough – The tool brings an improved level of precision in Outlook Olm to Pst conversion. The reason behind a huge jump in accuracy is that it's not exactly "Olm" to Pst conversion. It doesn't need Olm file, instead it works with your identity folders directly. In consequence, making it ideally flawless with zero instances of data loss or corruption. It preserves all the images, attachments, non-English text, folder hierarchy, email headers, meta-data, nested messages, and other information.
Flexible. Convert Files your Own way – In regards to the flexibility, "Olm to Pst Converter Ultimate" offers necessary features and preferences to control the conversion process accordingly to everyone's custom needs and situations. You can –
Convert only selective folders and ignore the rest. Ignore all empty folders in one click.
Allows you to merge multiple contacts to "default" contact folder in Windows Outlook.
Allows you to merge multiple calendar to "default" calendar folder in Windows Outlook.
Set the limit for the size of Pst file and the tool splits the ones that tend to cross it. This helps immensely because large Pst files are a nightmare to import to Windows Outlook.
It features the ordinary 'custom' option as well. Besides its auto-detection feature for database, it also features the conventional approach to data migration, which is converting Outlook Olm to Pst Simply load Olm files manually from any location, and convert them to Pst. It's only recommended when the other option of directly converting Mac Outlook database is not impossible.
Load multiple Olm files and convert them to Pst in one go. This doesn't negatively affect the quality, speed, or any other factors.
Merge multiple Olm files to a single Pst file (depends on the maximum set limit for pst file size)
Highly Receptive Support with Heartening Support – The tool is brought to you by Gladwev Software that is known for their inspiring level of customer support. Whatever your issue, query, or setback is, get in touch. The team of experts at Gladwev is always prepared to assist you 24×7 in ways that extend any other ordinary service by miles. The team is super-friendly, quick to respond, helpful, cheerful, friendly, and most of all, expert in Outlook Olm to Pst email conversion.
"Olm to Pst Converter Ultimate" has transformed the ways people convert their data from Mac Outlook to Windows Outlook. The deceptively simple interface, but equally powerful mechanism for converting data – overdelivers. You can get a free trial copy below.
Save