Want to import Olm to Outlook 2010?
Did you receive an Olm file via email on your Windows PC with Outlook 2010?
Or did you archive the Mac Outlook data to an Olm file and wants to import Olm to Outlook 2010?
In all those situations, unfortunately, you can't import the file to Windows Outlook 2010 directly. This is because the Olm file is the data file for Mac Outlook only, and is not readable by any other app other than Mac Outlook. This is unfortunate because most users who haven't migrated data before rarely expect this. It's always a little surprise to find that Outlook for Mac and Windows have different data files that aren't compatible.
So the option left is to convert the Olm file to the Outlook 2010 Windows supporting file, which is Pst (personal storage table) format.
To migrate data internally, there is an option that includes using a server of an email account.
It goes like this – you create a new dummy IMAP account, sync the data from Mac Outlook to the server using the account, and then sync back from the server to the Windows Outlook client.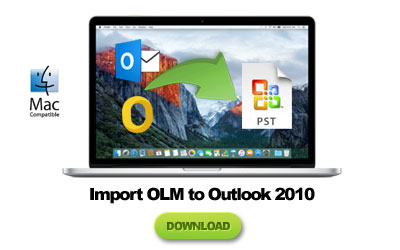 This is not exactly Olm to Outlook 2010 conversion, since it involves no archived files. Moreover, it is free and doesn't require installing any outside software. But the advantages end there. It is an extremely lengthy process, requires high data usage to sync data two times (Uploading and Downloading), and often ends up with incomplete migration. The data you will find on the other end (Windows Outlook) won't exactly match the source (Mac Outlook).
Therefore, it is quiet known in the industry by now that manually moving data from Mac Outlook to Windows Outlook is much worse than using a third party tool to convert Olm file to Outlook 2010 Pst files.
NOTE* – you can't import Olm file to any Windows Outlook version. But the phrase "Import Olm to Outlook" is the most commonly used phrase for migrating Mac to Windows Outlook client. For the rest of the article, "importing Olm" and "Converting Olm" is used synonymously.
Olm to Outlook 2010
Conversion Directly From Identity
Folder
There is, however, a third method. It is the best, most easiest, and accurate method to move your data. It involves no Olm file and no manual migration (like syncing data using a server).
It's a tool called "Olm to Pst Converter Ultimate" developed by Gladwev Software. It does not convert Olm to Outlook 2010, but in fact load the database directly from Outlook identity folder. This eliminates many issues that are generally faced during traditional Outlook 2010 import Olm methods.
Want to know more about?
Continue reading. The features mentioned below are exclusive to "Olm to Pst Converter Ultimate". This list will help you see the true value of the tool.
User-Interface – Importing Olm file to Outlook 2010 is complicated. Therefore, most of the tools for the job are very hard to use. The interface feels complex and the instructions aren't clear. With this tool, you get a super user-friendly and neat graphical interface that is easy to use even for the naive users.
Express and Custom – As said above, it can load data directly from Outlook identity folder. But it also has the old traditional option to manually Olm files or Mac identity from backup disc or any other location.
Convert Selective Folders – Once your have made the selection (Olm files or database folder), you can choose the folders for conversion manually. Unmark the ones that are not relevant for you, and you don't want them in Windows Outlook Pst files. You can also choose to ignore all empty folders.
Contacts and calendar – All the contacts and calendar in your selected files for conversion will automatically be converted to Pst format. You don't need to manually do anything. You can, however, choose to merge them into their respective 'default' folders in Pst files for Windows Outlook, as opposed to keep them similar to source.
Limit output Pst file size – If you don't want the size of Pst files to exceed a certain limit, you can set it manually from settings. This also essentially splits the large Pst files into smaller files. This feature is important because if you have large Olm files, the converted Pst file would be large too, which can cause problems when importing it into Windows Outlook.
Difference Between 'Ultimate' and Traditional Import Olm to Outlook 2010
Let's take a look at what are the differences in the quality of converted files between the approach of 'Ultimate" and the rest traditional tools that import Olm to Outlook 2010.
Before starting with each point separately, the bottom line is – "Olm to Pst converter Ultimate" converts everything with an extremely sharp precision.
Embedded Images – The images that are embedded within an email body gets converted properly when loading the identity folder directly, than when manually loading Olm files. The images remain intact with the original dimensions and properties.
Email Attachments – When you attach a file with an email or receive an email with attachments, it gets stored in the database in some location. Manually loading Olm files can make it more likely to sometimes miss them and not convert them properly for Pst files. That's the primary reason why you notice that email attachments are not exactly where they should be when you import Olm into Outlook 2010.
Non-English characters – To convert and preserve database with multiple languages is not an easy task. It does not however depend upon how you load data but the all encompassing logic used to extract the information. Many tools fail miserably in that. Fortunately, not 'Ultimate'. It was built from the grounds up to pick up all languages and convert them to Unicode supported Pst files.
Folder Hierarchy – I think it goes without saying that the order in which you arrange your folders that contain your emails is very important for the management. What if you lost them during conversion? And yet, many tools fail to employ a trusting logic to keep the hierarchy unharmed. With 'Ultimate' you can be assured that all your folder hierarchy will be preserved perfectly.
Trial Version – See for free how this is much better than Importing Olm into Outlook 2010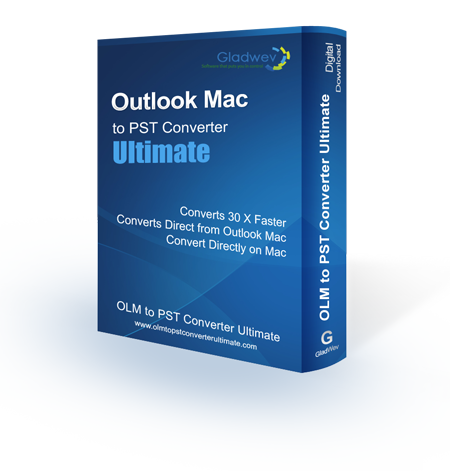 Let go of the old ways of importing Olm file to Outlook 2010. It is lengthy, not accurate, and can be very taxing. Choose "Olm to Pst Converter Ultimate".
If you want to see how the tool works in action, click the links below and see it for free. The free trial version works for 10 conversion per folder from Mac Outlook to Pst files. If you like what you see, you can register for the paid licenses to remove the limitation for 10 conversion per folder.
Find out how easy it is to select 'Express' option and do nothing but still get impressive results. See how the converted Pst files are perfectly mirrored to the source. NO loss of images, or attachments, or folder hierarchy, or non-English text, or any meta-data. Nothing.
More than that, using the tool is like a child's play. Experience the cutting-edge design feat from Gladwev that has succeeded in making one of the most complex jobs so easy. Everything feels intuitive, natural, and simple. And yet the power and sophisticated of the tool's inner working isn't compromised.
The links are given below. Download it now. You don't need to give any information or sign up for anything. Just instant download of the .dmg file.
You can literally start converting the files within 2 minutes.
Save