Migrating Olm to Pst has always been a challenge. Most users end up wasting hours on end only to end up with crippling data. Integrity loss is a major concerning issue with data migration of such sort and most tools don't have that sort of technology to get past it.
That's why we brought up "Olm to Pst Converter Ultimate" to finally put an end to a rusty method of converting files. It reinvented the wheels by directly targeting the Outlook database folder, which results not only in quicker conversion, but also more intuitive and accurate conversion. Through this approach, the conversions become more proficient and precise with no loss in data fidelity.
This article will mention some of its notable features that defines the very nature of the program and explains how it has set new standards when it comes to migrating Olm to Pst.
Safety – The safety of files is an issue that hasn't been solved since many years. It still remains the source behind the fear during email migration. "Olm to Pst Converter Ultimate", by a reliable company Gladwev Software, assures users of the safety of their data from all kinds of threats, ranging from accidental data loss to intentional data theft by malware etc. and other concerns.
Intuitive Interface – The graphically oriented interface is very user-friendly, which is like saying a lot when it comes to email migration, specially of Olm to Pst migration. It's a convoluted process, as stated earlier, that deserved some innovation in interface designing. Thankfully, 'ultimate' tool introduced it, and now the ease of migration is a reality.
Folder Hierarchy – Folder hierarchy is the structure of folders inside which emails are arranged. You may have folders like "Work", "Personal", "travel", etc. There must be sub-folders inside mail folders as well. You can see how important it is. It is the most frequent information that gets damaged or even lost completely during  migration Olm to Pst. Not so much with "Olm to Pst Converter Ultimate".
Help and Support – Customer support for certain users is as important as the tool itself. Even though "Olm to Pst Converter Ultimate" offers an intuitive interface and clear instructions, there might be circumstances where an expert would come in handy. Every computer is different, and every users' needs are different. It would be a fantasy come true if a "perfect" software is developed. Gladwev doesn't pretend to be that kind of a company. But when the tool is combined with their 24×7, quick to respond, and helpful customer support – it gets near perfect as humanely possible.
'Express' and 'Custom' Option for Better Migrating Olm to Pst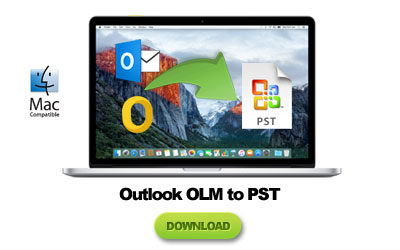 It has been said before that "Olm to Pst Converter Ultimate" can directly load your emails and other stuff from identity folder database. In contrast with conventional software, you can only manually load Olm files. This makes a striking difference between 'Ultimate' and the "others".
Let's take a look at the options that this tool provides for loading your content. There are two options – 'Express' and 'Custom'.
Express – Gladwev Software recommends 'Express' option to migrate Olm to Pst whenever possible. When you click on it, the tool auto-detects your data from the identity folder from the default location where Mac Outlook is installed. It allows the tool to improve upon speed, accuracy, and convenience multi fold. The automatically loading of data takes care of all the data incoherency and loss that may occur during manually archiving data to an Olm file. It also makes the entire job more quicker and easier. For beginners, it's a blessing. Allowing tool to detect the database itself becomes surprisingly more intuitive than what may appear.
To check the efficiency of this approach, archive your data to an Olm file few times. Check the size of the Olm file, and you'd notice they are all different in sizes. This shows that some of the data is lost or modified during export. When you eliminate the step entirely, you decrease the likelihood of data corruption to a huge extent.
This is done through some sophisticated programming which is yet to be seen elsewhere. Any app can detect the database easily, but to do it thoroughly and cleanly, not just to preview it, but to get it ready for conversion is an achievement. The programming was done so that nothing is left behind – contacts, calendar entries, emails, meta-data, attachments, etc. It also helps tremendously in maintaining the folder hierarchy since manually archiving data to Olm file is well-known for losing your folders structure, sometimes by a human error.
Custom – Express option requires you to have Mac Outlook installed in your Mac. If you don't, if the data you want to convert isn't inside Mac Outlook, you can't use "Express" option. You need to go the conventional route to migrate Olm to Pst. Sometimes users receive Olm file from others via email. That too, is a situation that isn't applicable with the 'Express' mode.
For all these situations, Gladwev Software allowed the traditional method of data conversion. You can manually load Olm files (even multiple files) and have them converted to Pst files. This migration of Olm to Pst is what is commonly adopted by the industry.
On top of that, with 'custom' option you can also manually choose your Mac Outlook database from any location, such as backup disk or a flash storage. You don't necessarily need an Olm file. If you have a different account's files in a 'Mail' folder as the main identity database, you can easily load that for conversion.
Migrate Olm to Pst

like a pro now!

"Olm to Pst converter Ultimate" is available in multiple licenses and packages. You can choose any that fits your needs. There is also a free trial version that can convert 10 items per folder. It's the perfect way to see how the tool runs in your system and behaves with your database.

Get it for free with the links given below. If you feel you need to ask something, or you are stuck at some place, get in touch with the 24×7 customer support and expect your issue to be resolved without a delay.

To summarize, here are the list of features that it contains, making 'exporting Olm to Pst a breeze –
Auto-loads database directly
allows manual load of Olm files
allows batch conversion of multiple Olm files
merge multiple Olm files to a single Pst file
converts contacts and calendar data as well
allows merging of multiple contacts and calendar data to their respective 'default' folder in Windows Outlook
splits large Pst files to smaller files
Preserves folder hierarchy perfectly
Supports conversion of non-English content
Preserves email attachments, embedded images, headers, and meta-data
Converts UTF-8 and S/MIME defined content
Get it today. You won't be disappointed.


Save
Save