Mac Outlook and Windows Outlook are two email clients, also called information managers. Both have a large market share in Mac and Windows platforms respectively. They offer an inventive approach to manage emails and other information. The huge list of features both have are certainly are gift to users while sending and receiving emails. There are many things that you can do using Outlook that is not possible with other clients, or at least, not in the same manner. Try .OLM to .PST Converter free version!
However, while they offer a great system for emailing needs, they can be a bit of a frustration while making a switch. And making a switch from Mac to Windows Outlook is not a rare occurrence anymore. Email migration is becoming quiet common these days as people are always on the lookout for more helpful services that suit their needs much better.
This article is about converting emails and other items from Mac to Windows Outlook, but in no way this means that windows version is superior to Mac. There is one thing, however, quiet obvious, that Windows is more open environment as compared to Mac. And if you are moving to Windows, this post can help you. Let's begin by asking why we need to through all this hassle in the first place.
Mac and Windows Outlook respectively uses Olm and Pst file format for storing information. And the frustration comes from the differences between the files and their incompatibility with each other. One cannot import Olm to Windows Outlook, and therefore, the options left is to convert Olm to Pst.
However, there is another option, far more accurate, easier, and effective.
Gladwev Software' brings "Olm to Pst Converter Ultimate" that can auto-detect the default identity directory in your Mac and then deal with the conversion straight from there.
In a nutshell, you don't need Olm files anymore, if moving data from Mac to Windows Outlook.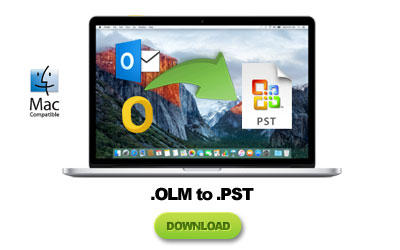 To convert Mac Outlook data to Windows Pst files, after launching "Olm to Pst Converter Ultimate" follow the steps :-
Click on 'Express' or either 'custom' option. Express option automatically loads the Mac Outlook database, and custom option allows you to load a database from any location, and also to manually load Olm files.
After the selection of database, you can choose the folders for conversion.
There will be three different options – merge all contacts in default, merge all calendar entries in default, and to ignore empty folders.
Click 'next' to start the conversion. You can the conversion happening in the process window. You can also 'abort' it in the middle.
Once done, you can locate the Pst files directly from the button given, and then import it to Windows Outlook.
Benefits of Direct Approach compared to
.Olm to .Pst

Conversion
It's easier. You don't need to go through all the steps of exporting data to Olm files. You don't even need to launch Mac Outlook at all.
It's quicker. Quite obviously, because there is one step that is entirely eliminated from the overall objective of email migration.
It's much accurate. Directly targeting the database eliminates any chances of incomplete migration and integrity loss. Olm files sometimes are corrupted, and thus if you use them to convert to Pst, some of the information might be missing.
If you are wondering about accuracy and the precision of conversion, know that it can migrate all of the items below without issues –
Non-English characters
Embedded Images
Nested Messages
Email Attachments
Folder Hierarchy
Meta-data
Headers (Subject, to, from, cc, bcc, etc.)
Emails read/unread status
The bottom line is – whatever you load onto the tool, you will get an exact replica of the data, only in Pst format.
"Olm to Pst Converter Ultimate" is designed from the grounds up to offer the  easiest way for data conversion. It isn't simply refined from other solutions that exist in the market. The features, the interface, the algorithm, everything is developed from scratch to avoid the pitfalls usually present with developing email migration tools. The end result is the unique, but highly efficient and smooth means of Mac Outlook to Pst conversion.
Salient Features that Will help you while converting .Olm to .Pst
"Olm to Pst Converter Ultimate" is simply an email migration tool with advanced features that are ahead of its time. Read below the full list of its features –
Deals with multiple and large Olm files at the same time
You can convert only selective folders instead of entire database or files
You can hide and ignore empty folders
It supports multi-languages including Chinese and Korean
Supports S/MIME defined content
Keeps folder hierarchy maintained
Converts contacts and calendar data
Merges multiple contacts and calendar into their respective 'default' folder
Much faster than other tools
Easy graphical oriented interface
full Conversion report
Professional support all-around-the-clock
Free Updates lifetime
If you look closely, these features are not just simple additions to the tool, but are necessary for proper data migration. Without them, any attempt at data migration would be unfruitful, or at least not very thorough and professional-like.
It is compatible with Mac OS X 10.6 or higher. The Pst files it converts the data to can be used with any Outlook version, including, 2016, 2013, 2010, 2007, 2005, and 2003. It can even be used to import data in Outlook 2016 for Mac, because it supports Pst format. It can also be opened by any other app that allows opening files with Pst format.
Manual Migration also not requiring .Olm to Pst conversion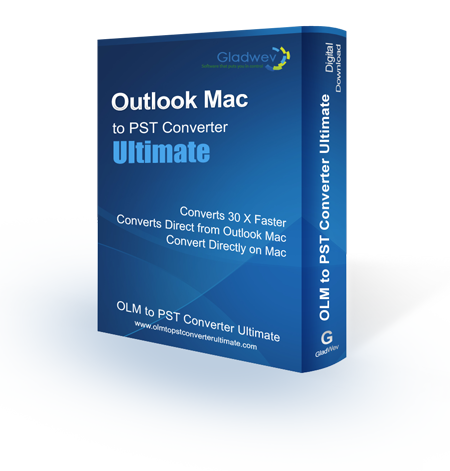 At this point, many users put up another question – why can't we convert the data manually instead of using .Olm to .Pst Converter Ultimate?
For those who don't know how you can do migrate your emails manually, here's the short explanation. You simply create a new IMAP account (ex. Gmail), add it to both Mac and Windows Outlook, and sync the data across client and server. First, from Mac Outlook (client) to Gmail account, and then from Gmail account to Windows Outlook.
This can be done using internet connection, and no third party apps are required. However, the benefits of this method end there. So let's come back to the question – why can't we convert the data manually?
Because the manual approach is entirely inefficient because of how long it takes, and how tedious the process is. In addition, if your database is huge, you are going to use a lot of your bandwidth. But none of these are as big a problem as the incomplete migration is. Manually syncing data using an IMAP account leads to multiple data errors, loss of data integrity, such as broken strings of characters, damaged images, modified folder hierarchy, etc.
If I list the methods of Mac to Windows Outlook migration sorted by their effectiveness, starting from worse to best, it'd be –
Manually Migrate using IMAP account
Convert .Olm to .Pst file format using a traditional converter
Use ".Olm to .Pst Converter Ultimate" by converting Mac Outlook database directly to Pst
If you want to try out "Olm to Pst converter Ultimate" click the download link below. The free trial version lets you convert 10 items per folder from Mac Outlook database (or Olm files) to Pst.
Save
Save
Save
Save