"Olm file converter Ultimate" is the only Mac tool that allows you to convert Olm files to Pst directly in Mac.
It is also the only tool that uses the 'express' mode to automatically detect your emails from database in your identity folder. It doesn't necessary need any Olm file like the other regular tools do, although the option is present.
Directly loading emails is the reason of its unprecedented accuracy and precision of converted files, and also for the additional speed of conversion and user-friendliness. It's incredibly simple for beginners to auto-load their database and the rest of the work is done by the tool itself.
On top of that, it also supports multiple Olm file conversion which is a priceless feature if you need that.
There are many Olm files converters but most of them can only work with a single Olm file at a time. This can be very taxing and lengthy if you have multiple Olm files. Now you can simply select any number of Olm files of any size and the tool will read them all together. Then all the folders inside the selected files will be shown to you, which you can mark for conversion.
Necessary Features for an Effective Olm File Converter to Have
Olm files to Pst

conversion is a challenging task. To make it easy, effective, and flexible, Olm file converters need to have some necessary features.
These necessary features, and the matching feature of "Olm to Pst Converter Ultimate" is described below –
Large Pst files are a nightmare to upload to Windows Outlook, specially in the versions before 2016. This issue is generally overlooked by users and developers both when converting Olm files to Pst.
With 'Ultimate' , you can limit the size of Pst file by entering the size in the given box. If the allowed size limit isn't enough, the tool creates a another new Pst file. This gives you multiple Pst files but small enough to easily upload to Windows Outlook.
A typical recommend size is 15 Gb.
If you don't want to split your Pst files, enter 0 in the box, but it is not recommended.
Contacts and Calendar Conversion
Email clients these days have a more common name – Information managers. They have come a long way since the email protocols (POP, IMAP, etc.) were invented to send and receive emails through clients. These clients now manage all sorts of information, including emails, to-do lists, distribution lists, and contacts and calendar entries.
Therefore, it is important for whatever tool or technique you are using to migrate your data from Mac Olm files to Pst, that it also converts contacts and calendar entries.
With "Olm to Pst Converter Ultimate", you get that functionality and more.
It not only converts contacts and calendar entries, but also allows users to merge them to their respective 'default' folder in Windows Outlook.
The ease of converting everything that an Olm file can store to a Pst file without any loss of information is priceless. Stop looking for different third party applications to convert each type of item separately, when 'Ultimate' can do it all by itself.
This has been stated above that 'Ultimate' can convert multiple Olm files to Pst in one go. Not only can it convert them, it also converts them without any compromise with quality or performance. It also runs smoothly. You won't find any difference between large multiple Olm files and one small sized file.
For large scale email migration projects, this is the most important feature an Olm file converter should have. Sadly, most of them don't.
Converting each Olm file to Pst one at a time can be insanely tedious.
Quick Guide to Convert Olm files to Pst
An interface of a software is the part where a user interacts with the software and gives it commands. It can be of two types – command line interface and graphical interface.
'Ultimate' has the graphical interface for making the job as easy as possible. It is designed to offer an intuitive and natural interaction with the tool and its features. And, the instructions are lucid, but detailed. Even if you have no experience with Olm file converters, you wouldn't feel so.
The steps below outline the general procedure for converting Olm files to Pst, and a quick guide about its features.
Download the tool's free trial version using the link given at the end of this article. Install it like you install any other regular software using its graphical installation wizard.
Launch the tool, and follow the steps below.
Choose 'Express' or 'Custom' to load your data.

'Express' mode automatically converts from Mac Outlook database directly from the default location of your identity folder.
'Custom' mode requires to manually load Olm files or Mac Outlook database from any location. Select this only if 'Express' mode is not applicable.

Check the folders you want to convert. Mark them all if you want to convert all of them. In addition, you can ignore empty folders and exclude them from conversion.
Merge contacts to a 'default' folder in Windows Outlook "Contacts".
Merge calendar entries to a 'default' folder in Windows Outlook "calendar".
Limit the size of Pst file, so the tool can split files larger than that in preferences.
Click 'Next' and choose the location to save the output Pst file.
The conversion will begin and you can see the progress window. You can click on 'Abort' window if you want to abort the process in the middle.
Once done, you will get the confirmation window, from where you can directly go to the folder where Pst files are stored, or read the full conversion report.
Copy the Pst files to your Windows PC where Outlook is installed.
How to import Pst files to Windows Outlook?
Note that this tutorial for importing Pst files is applicable for Outlook 2013 and 2016. Few steps might be different in older versions, but the general idea would remain same.
In Windows Outlook 2013 or 2016,
Click 'File' and 'Open & Export'
Choose 'Import/Export'
Choose 'Import from another program or file'
Choose 'Outlook Data File (.pst)'
Click 'Next'
Browse to the file and select it
Choose whether you want to replace duplicate items, create duplicate items, or not import them at all
Click 'Next'
If you are importing into Office 365 mailbox, choose that mailbox here.
If you're not, choose 'Import items into the current folder'
Click 'Finish'. The data would start importing and the progress box would go away when it's finished
Once done, you can see all the emails, contacts, and calendar entries in your Windows Outlook – exactly as it was with Mac Outlook. All your folder hierarchy, embedded images, email attachments, nested messages, meta-data, properties, read/unread emails status, non-English characters, and email headers will be all preserved.
The conversion speed is also faster than other tools. It can convert multiple large Olm files in mere minutes. The data processing occurs sharply without any lags or glitches, which results in quicker extraction of emails. Furthermore, with directly loading emails from identity folder, it makes a huge downward fall to the actual time required to convert Olm files to Pst.
Support, Free Trial, and Updates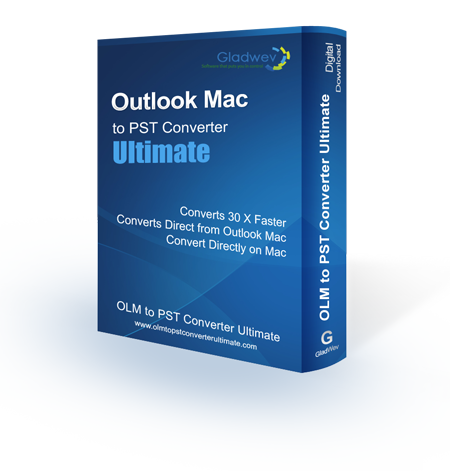 Any digital product can be said to be a complete package when it is offered with a full customer support and regular updates. The tools that were great once quickly lose their value if they aren't regularly updated. Both Mac and Windows as operating systems, and Outlook as email clients, have been sitting at the top for the same reason – they have a reliable support backing them up, and they are constantly upgraded to maintain and refine performance.
This makes the up-gradation for email migration tools also important. A single algorithm for data extraction would become obsolete after an update in Mac Outlook that may affect the algorithm.
Luckily, "Olm to Pst Converter Pro" offers both night-and-day technical assistance and regular updates. The updates are always and will always be free. Just pay once for the license of your choice, and never again. There are no hidden costs or "fine print" rates.
Get the free trial version from the links below.
Save