There are plenty of best Olm to Pst Converters for Mac that run on Windows. These tools require you to –
First archive all your Mac Outlook data to an Olm file
Copy that Olm file to Windows PC
Load it into your Windows Olm to Pst converter program
Check tool's settings, choose folders to convert, and work through the wizard to get Pst files
Import those Pst files to Windows Outlook
This seems like a decent method for Outlook migration, albeit, a slightly lengthy process. Still, compared to manual technique, it is not that difficult.
But the problem is that almost all converters are available for Windows only. For users who want a Mac version, they are out of luck.
Suppose, if you are a Mac user, and trying to share Mac Outlook data with a Windows user, what are you going to do? If you export the data to an Olm file, and send it to the Windows user, it won't work. Olm file is not recognizable by Windows Outlook. Therefore, in such a case, it is important for the Mac user to have an Olm to Pst converter that runs in Mac.
This is just one of the examples where Mac Olm to Pst converters might be needed. Another example is if you are moving to Windows PC after years of using Mac, you might want to convert your files in Mac since you are more comfortable with the platform as compared to Windows.
And lastly, email migration is much more detailed, coherent, and safe with Mac. However, it is not achieved by regular Olm to Pst converters for Mac. To achieve this higher level of precision in Mac, you need something little different.
That is provided by "Olm to Pst Converter Ultimate".
Why this Olm to Pst Converter for Mac is Different?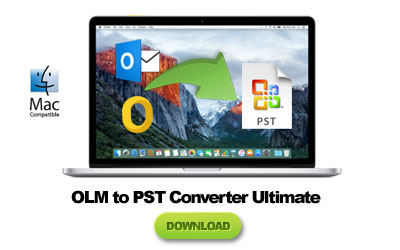 "Olm to Pst Converter Ultimate" is the only one that works directly in Mac. Besides its full Mac compatibility, it also offers 'express' mode, which makes it the best Olm to pst converter for any platform.
'Express' mode – When you click on 'Load' to load your Olm files for conversion, you can choose 'express'. The tool will then automatically detect the primary database folder of Mac Outlook where everything is stored.
This is the reason why it improves heavily upon the existing programs in regards to the precision and overall quality of conversion. Instead of converting from Olm files, it targets the identify folder directly, getting rid of an entire intermediary step of archiving data to Olm files.
This is the reason why no Windows based Olm to Pst converters can reach the level of performance the 'Ultimate' can.
How to Use This Olm to Pst converter for Mac?
Interacting with the interface of "Olm to Pst Converter Ultimate" is magically easy. The polished UI with the graphical wizard guides you in an orderly fashion. The steps below outline the basic procedure for converting Olm or Mac Outlook database to Windows Outlook Pst files.
Begin by downloading the tool's free trial version (links given below), install it, and launch it. Then follow the steps below.
There are two options – 'express' and 'custom'.

Choose 'Express' to auto-detect your Mac Outlook database folder. Recommended.
Choose 'Custom' to manually load Olm files or mac Outlook database folder for any location.

You can see the folders inside the chosen data. Make your selection of folders to convert by marking them. Mark all to convert all. You can also filter items based on types (emails, contacts, and calendar) and hide empty folders.
Check other settings (more on this below) and click 'Start'.
Depending on the size of your selected database, it will take few minutes to convert everything to Pst files. Once done, you will get the confirmation window with the message "Completed Successfully". Within that same window, you can click on 'locate' to go to the folder where it saved the Pst files.
Copy those Pst files to your Windows PC where Outlook is installed.
Within Windows Outlook, choose 'File' → Open & Export → Import/Export → 'Import from another program or file'.
Browse to where you copied the Pst files from step 4, and select it. You can see three different options under it. Select one of them as wanted.
Click next, and choose the folder to import the data to. If you are using Office 365 mailbox, choose that mailbox here.
Any other Olm to Pst Converters, either Mac or Windows version, won't be able to let you export your data this easily. It also performs every conversion with true precision and control over the fidelity of data. When you finally import Pst files to Outlook, you can notice how every data element (images, attachments, folders hierarchy, headers, etc.) are all perfectly preserved.
Other settings (3rd Step) – the tool lets you control few things and set preferences, as outlined below.
Merge all contacts in 'default' category in Windows Outlook 'Contacts'.
Merge all calendar in 'default' category in Windows Outlook 'Calendars'.
Ignore all Empty folders and do convert them.
Split large Pst files. Set the limit for their size in preferences. This makes it easy to import multiple pst files in Windows Outlook, instead of one large Pst file.
The Olm to Pst Converter That Converts Everything – Almost!
Well, it's obvious that it converts Mac Outlook data to Pst files. But what from inside those can it convert? The answer is everything that can be stored inside Pst files, except account details and outlook preferences. But other than, it converts every item including emails, contacts and all the fields, calendar entries, embedded images inside email bodies, email attachments, headers (to, cc, bcc, subject, from), nested messages, etc.
Non-English characters – This is the also one of the very few Olm to Pst converters that fully support the conversion of non-English languages. It can also convert languages like Chinese and Korean, which are double-byte characters, extremely hard to otherwise preserve by most programs.
Folder Hierarchy – Another important point worth mentioning is the preservation of folder hierarchy/structure. When you arrange your emails in different folders and sub-folders, the tree-structure that you get is called folder hierarchy. Most Olm to Pst converters for Mac or Windows are not capable of keeping that hierarchy same. All your emails get messed up without any proper arrangement. It's a very frustrating issue to deal with. Thankfully, with "Olm to Pst Converter Ultimate" you don't have to.
Get The Best Olm to Pst Converter for Mac now!
Two most important features that make "Olm to Pst Converter Ultimate" the best software for this task –
It is the only Mac converter
It directly auto-loads Mac Outlook database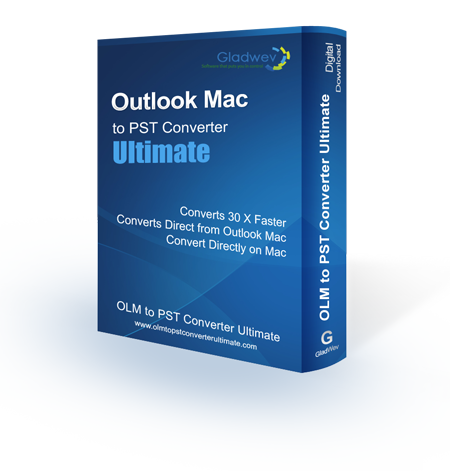 If you are switching from Mac Outlook to Windows Outlook, or want to convert Olm to Pst for a Windows user, or simply want to open an Olm file in Windows platform – use this tool without any hesitation. With its powerful features, you are not going to be regretting it a bit.
Moreover, the program is developed keeping all kinds of users in mind, experts and beginners. Therefore, the user interface is incredibly easy and intuitive. All the features make natural sense, and the instructions are clearly written.
Even then if you face a setback or something is not clear, or any other issues at all, you can contact the support team that works 24×7. Don't be hesitant to get in touch. The team responds quickly and is helpful to solve your technical issues or quries.
There are several packages available to suit users with different needs. Choose the one that fits you best for your needs and scope, and pay accordingly. There is also a free trial version available that allows you to convert 10 items per folder to Pst. It will give you the chance to try out the tool and experience it personally. A perfect way to decide if the tool would work for you or not. The links are given below for both to download free trial version and to buy one of the licenses.
Save