Outlook 2013 is an email client for Windows Outlook that has attracted a large user base. It features some smart options for users to deal with their emails. However, when it comes to converting the files from Olm to Pst, there is an issue. Olm files are not interchangeable with Pst. You can't directly import them to Windows Outlook. Therefore you have to first convert them to Pst. Import OLM to Outlook 2013 file format in right way.
Import OLM to Outlook 2013

in Right Way

"Olm to Pst Converter Ultimate" can get you through elegantly. It is developed by Gladwev Software, a successful and leading company for a wide and professional array of email migration software. The way it helps you import from Olm to Outlook 2013 is by converting the files to Pst, which is the supporting format for Windows Outlook 2013 and all other versions.

This is a process that can take its toll heavily if you aren't experienced, or if you don't have proper set of tools and guidance. 'Ultimate' is that package that will help you get through this. This is how professionals cleverly convert their data. And you are also going to find out below how easy it is to use.

There are many unique and valuable features of "Olm to Pst Converter Ultimate". They are listed below.

First the top three S's of every software service – Speed, safety, and Support.

Speed – It is built from the scratch to offer an uninterrupted, smooth conversion. Every command runs with a lightning fast speed, saving your precious time substantially. The speed plays a bigger role when you deal with multiple Olm files (see below for more on batch conversion).

For large scale email migration, most of the tools importing Olm to Outlook 2013 can be agonizing due to their slow speed and clumsy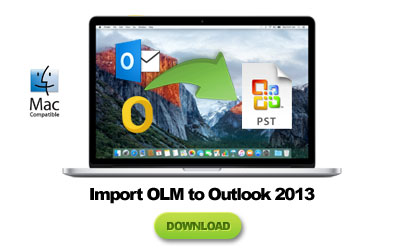 performance. With 'Ultimate' you get quick conversion speed, along with the fact that you don't need Olm files at all, which reduces the time required for data migration even further.
Safety – The tool has every possible protection for your files from unwanted events. To shield your sensitive data from threats, it employs the smart algorithms that do their job most effectively.
Let go of the crippling fear that the tool might damage your source files, or there might be some kind of a malware that would break your computer, or some other fears like that. 'Ultimate' has the powerful system to free the entire process from all kinds of dangers and leave you and your data secure when importing Olm to Outlook 2013.
Interface – The interface is an intuitive, graphical oriented, user-friendly wizard for systematic approach for conversion. All the features and steps are self-explanatory, and along with that, the instructions are written so as to make it easy and understandable for even the least experienced users.
Support – Regardless of how intuitive the interface is, or how clear the instructions are, there can be situations where one requires an expert's help. Gladwev's 24×7 customer support is going to offer that, with dedication, expertise, and friendly nature.
Next, we are going to talk about one feature that make "Olm to Pst Converter Pro" different – the 'Express' mode.
Express mode – Express option is one of the two options to select data for conversion. The other one is 'Custom', in which you can manually load one or more Olm files from any location (more on that below). Express option is one of the two options to select data for conversion. The other one is 'Custom', in which you can manually load one or more Olm files from any location (more on that below).
With 'Express', the tool autodetects your emails from the source where Mac Outlook stores them. In other words, you don't need to archive data to Olm files. The tool doesn't need Olm files.
Therefore, 'Express' mode will only work when data you want to convert is inside Mac Outlook database, and not inside other Olm files.
Next, we move on to the single, most elemental benefit of using "Olm to Pst Converter Ultimate" over others – Data Accuracy or its ability to convert the data extensively without any damage or unwanted modification.
Accuracy of Conversion – When importing Olm to Outlook 2013, you'd frequently notice abnormalities with the output files. The images would be lost, the text would be damaged, folder hierarchy would be modified, folders may appear empty, email headers might be missing, etc.
It's called loss of the data fidelity, and "Olm to Pst Converter Ultimate" ends this.
It holds the power to draw data completely from source (Mac Outlook database or Olm files), and restore it to Pst files without a slip.
Let's take a quick look at some of the items that are hard to preserve by any other tool, but is an easy thing for 'Ultimate' –
Email attachments
Embedded Images
Meta-data, headers, such as to, from, subject, cc, bcc, flagged status, etc.
nested messages
read/unread status of emails
Worried about the emails that your overseas clients sent you with important information, but they all are not in English? Read this.
Support for Non-English content – "Olm to Pst Converter Ultimate" was built to support content from all languages.
Sometimes the ordinary tools don't have the programming ability to pick up text encoded differently, like many non-English languages. This results in poor conversion quality.
With 'Ultimate' you get proper Unicode converted Pst files, rich in accuracy and integrity of all kinds of text. It even includes double-byte characters, such as Chinese, which is otherwise incredibly difficult to control in data migration.
What about contacts and calendar entries?
Contacts and calendar conversion – Most of the times, users have to employ a different method for contacts and calendar conversion, since the tool that imports Olm to Outlook 2013 only deals with emails.
That's not the issue with 'Ultimate'. It has the ability to convert them as well to the appropriate place as necessary.
Moreover, it can also let you merge contacts and calendar entries to their 'default' folder with a single click. The whole process is automatic, which means you don't have to manually do anything other than load your data.
What if the data you want to export to Pst isn't in your Mac Outlook database folder? Or you have plenty of Olm files to convert to Pst? 'Ultimate' has got a solution for that too.
Olm files to Pst in bulk – Gladwev doesn't recommend 'custom' option, because its alternative, Express option, is better in all aspects. However, the 'custom' option is also required in cases where you can't load Mac Outlook database directly, but you have Olm files.
'Custom' option allows you to manually load data in two ways – Olm files, or Mac Outlook database folder from any location.
The benefit of 'custom' option is that you can load multiple files from any location, even if they belong to multiple users, and have them converted to Pst in no time.
What's even better is 'Ultimate' works equally well with batch conversion. Regardless of the size and number of files, it makes no compromise with the accuracy and performance of the overall importing Olm to Outlook 2013 process.
Large Pst files? Read this.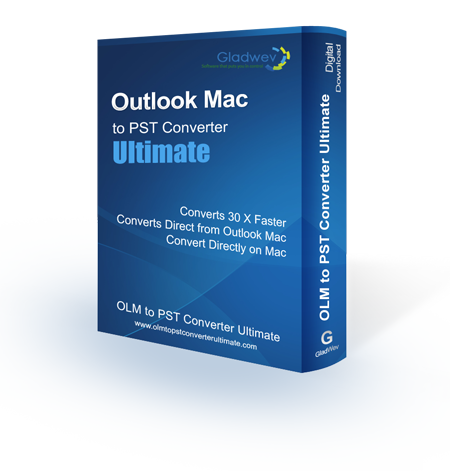 Split large Pst files –  This all is good. But there is one issue that is neither concerned with the tools importing Olm to Outlook 2013, nor with Mac Outlook. It is rather concerned with Windows Outlook, and its annoying habit of rejecting large Pst files. Rejecting might be a harsh word; it find it hard to open or import files that are larger than few Gbs (there is no specific size that is hard to import because it depends on many factors).
Not being able to import the files can be disheartening, specially if a user has almost bled trying to convert the data to Pst files.
Some users follow the approach of "conversion by parts". It involves converting only a parts of your database one at a time, leading to multiple but small Pst files, which are easy to import. However, this is an increasingly frustrating approach.
Most tools don't go to this department, and leaves the users hanging with large Pst files.
'Ultimate' even takes responsibility for this, and provides a relief by splitting the files automatically, so you never have to worry about it yourself.
This is how it solves this problem. You will first enter a size in a box that will determine how large a Pst file can be. Then, during Olm to Pst conversion, the tool will limit the output file to that size.
But what if the database is big and all emails don't come under that limit? No problem. The tool begins creating a new file as soon as the size limit is check, effectively splitting the files into two (or more if required).
After reading all the above features, I don't think there would be any doubt in your mind to go the other direction. However, if you do still have doubts, it's perfectly reasonable, in fact, it is healthy. This doubts protects you from the fake claims and scams.
So, what you can do is give it a try for free. Sounds good? The link for free trial version is given below. Download it and see for yourself.
Save