Looking for Outlook 2016 Mac export Pst. This article will help you in that. But firt, a bit of an introduction.
A Brief Intro Before Outlook 2016 Mac Export Pst
Outlook 2016 for Mac was launched 09th July 2015 as a part of Microsoft Office suite 2016, which includes other apps like Word, Excel, and Powerpoint. Outlook 2016 is being used by a very large user base for Mac OS X, being the top competitor for 'Mail' by Apple as Mac's default email client.
It garnered positive reviews, specially praised by reviewers for its collaboration features, which were the highlights of the Microsoft Suite as a whole, in both Mac and Windows. Microsoft did a lot of work trying to merge the cloud services to the actual functions of the apps like Word and Outlook. It definitely gives one of the most user-friendly experiences while working with a team and accessing files from online services like Onedrive, and using them directly with the apps without downloading.
However, Mac Outlook still falls behind its Windows counterpart. Microsoft was mildly criticized for not implementing the features that are available in Windows Outlook, and in the views of the critics, "these features can be implemented in Mac platform with slight efforts". Many people have always considered Mac versions of Office suite as the "step child" of Windows, and few people have the same opinions after the new launch.
The overall launch was however, satisfying, with mild disappointment from one or two places. It was more the reflection for the market expectations, than the actual quality of the product.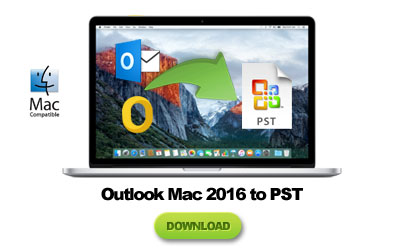 Having said that, there are many companies and even individual users whose businesses are heavily dependent on emails and their effective management. It's a not a stretch to say that their choice of platforms to use is based on the power they can have with it for dealing with massive peck of incoming and outgoing emails every minute. You can find various companies, small and big scale, including some individuals that switch to Windows for its considerably better Outlook version.
And then, the real disappointment kicks in after the realization – there is no actual inbuilt system or feature for effective migration. Users who are decently knowledgeable know that they can archive their data to Olm files. However, it is of no use when moving to Windows Outlook since it doesn't support Olm files, even the Outlook 2016 version, which is yet again surprising because Mac Outlook supports Pst files (Windows data file).
So that brings us to the demanding and taxing job of moving your data from Mac Outlook to Windows Outlook, through the process of Outlook 2016 Mac export to Pst, using a third party tool.
Outlook 2016 Mac Export to Pst – What are the troubles?
Although there aren't any official tools offered by Microsoft Outlook team to move data across different Outlook versions, but that doesn't mean there is no way. In fact, the lack of tools for Outlook 2016 Mac export to Pst has spiked the number countless third party tools. Almost all of them fall under the category of Olm to Pst file Converters. This is explained below.
As you probably know, Mac and Windows Outlook uses different data files, Olm and Pst respectively. However, most of the users who have never exported data across different clients are unaware that both of these files are not interchangeable. Windows Outlook doesn't even recognize Olm files.
Therefore, here is when comes third party Olm to Pst converters. They will extract the data from your Mac Outlook 2016 Olm files and convert it into Pst files. You can then import the files to Windows Outlook. Voila! A simple and easy method.
However, it is not so simple, and there are many factors that make the job incredibly hard. Some common concerns while using these software for converting Outlook Mac 2016 to Pst files are –
Corrupted Olm files do not convert to Pst files properly.
The tools fail to convert data thoroughly. There are always few things missing in output Pst files, such as images, attachments, and such.
These Outlook Mac 2016 converters to Pst files do not generally support non-English content. So the emails not in English are not converted.
It takes a lot of time. The tools run slowly and take countless hours to convert the files. It becomes a major nuisance when the files are many and the database is huge. The amount of time required sometimes result in failed conversion due to several reasons.
It's hard. The interface and the instructions of these tools can be hard for a basic user to understand.
It's a tough world out there. If you are in a look out for an efficient Outlook Mac 2016 converter, you might be disappointed repeatedly. However, consider yourself lucky that you landed on this page. The tool mentioned below is the Ultimate solution for this that has effectively ended the past frustration of data migration between these two clients and their data files.
The Ultimate tool to Convert Outlook Mac 2016 to Pst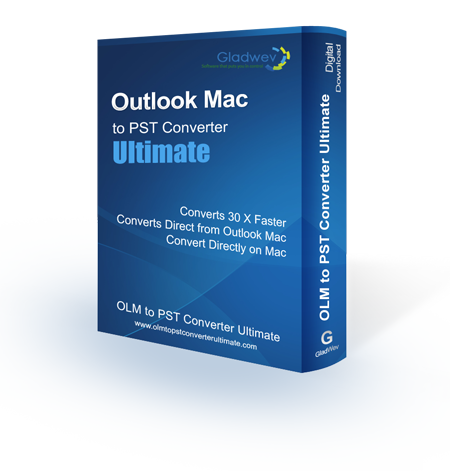 It's called "Olm to Pst Converter Ultimate". The tool is not your ordinary Olm 2016 to Pst Converters. Moreover it is built by one of the leading companies in email migration – Gladwev Software. The tool has none of the limitations and inefficiencies that those poorly developed tools have. Not only that, Gladwev brought the latest technology to make the job as quick, efficient, and easy as possible.
Due to which, "Olm to Pst Converter tool" can now convert your data from Mac Outlook 2016 to Pst files without needing Olm files at all. So the first issue that we mentioned above (corrupted Olm files) is not only solved, but is no more in the picture.
You might be confused at this point. Don't be. The explanation below will help you understand it.
There are two ways you can select the data you want to convert to Pst files – Express and Custom.
Custom allows you to load Olm files from any location. This is the traditional approach for loading data that all tools follow. However, it also allows you to load the database folder (identity folder) from any location, which is a feature that's not yet available widely.
Now we come to 'Express' option for loading your data, which defines the very nature of "Olm to Pst Converter Software". When you choose "Express", the tool auto-detects your main identity folder for Mac Outlook installed in the default location. This is the folder that stores data and displays it in your Mac Outlook interface for you to interact with.
By allowing the tool to directly convert from the source without archiving to Olm files gives much sharper precision and control over the integrity of files. This is the only way to have 100% accurate Outlook Mac 2016 to Pst migration that doesn't lose your images, folder hierarchy, read/unread status, attachments, nested messages, meta-data, email headers, etc. Everything remains the same as it was with your original Mac Outlook 2016.
Try Outlook 2016 Mac Export to Pst for Free!
2016 launch of Microsoft Office Suite was a big leap for the features and functionality of all the apps that are included in it, including Outlook. And both the Mac and Windows versions of Outlook 2016 are great in their own regards. But this is also truth that Mac Outlook still feels like a "step child" in comparison to its Windows counterpart. It appears as if ti doesn't get the care that Windows Outlook does.
Anyway, it all depends on you what you want to use and what you priorities are. Furthermore then can be plenty of other reasons to move from Mac to Windows, which also might include the migration of email data for Outlook.
For those situations, "Olm to Pst Converter Ultimate" will help you perfectly. It is the best Outlook Mac 2016 to Pst converter that converts the data with 100% accuracy while preserving the fidelity of your complex data.
For the record, it works not only for Outlook 2016, but all other versions of Mac and Windows Outlook.
Want to see it in action? Go to its download page and get the trial version for free. The link is given below.
Save