Looking to export Olm to Pst free without any loss of emails or any information inside them? You have landed on just the right place. It's a challenge, often times ending with frustration.
Don't be afraid. Let's take a look at this infamous task for email migration. And by the end, you will feel calmer, and more confident.
Ways to
export Olm to Pst

– file conversion, manual, and "Ultimate"

Exporting Olm to Pst is something that is involved with email migration between Mac to Windows Outlook. And the job of file conversion is necessary due to the incompatibility between Outlook clients for the two platforms. They have their own proprietary file format that they both use for storing file. Olm for Mac Outlook, and Pst for Windows Outlook. You find some fine tools online that converts Olm format to Pst format.

There is another method of data migration between the clients. You are going to need an email account that supports IMAP exchange. Then you simply sync the data from Mac Outlook to server, and then from server to Windows Outlook.

If this sounds doable to you, you may have a very small database or you are missing some important information here. Manual email migration using IMAP email account can go terribly wrong, not to mention the amount of time and internet bandwidth it consumes.

It's strongly recommended to avoid this trap, and instead choose a professional support in form of a third party software. Even if you don't know how to export Olm to Pst, with the right set of tools that have proper instructions for beginners, you are going to end up much better than manual migration method explained in the passage above.

Keeping that in mind, we'll move on to the "ultimate" method.

"Olm to Pst Converter Ultimate" is a software program by Gladwev Software, which brings totally new technology and yet a familiar interface to use it.

It does export Olm to Pst, but also features an 'Express' mode, an exclusive feature that makes the job astronomically easier.

With 'Express' mode, it automatically detects every item inside the Mac Outlook database. You don't need to manually load the archived Olm file to it.

Consequentially, the conversion becomes more intuitive, more quicker, and more accurate in terms of data preservation and fidelity.
Features of "Olm to Pst Converter Ultimate" while exporting Olm to Pst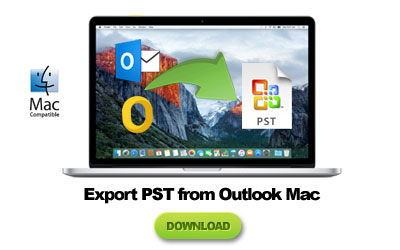 The list below highlights the top features that acts as the defining traits of the tool.
Only tool that works directly in Mac for converting Mac Outlook data to Pst files.
Auto-load Mac Outlook database, by-passing the need for Olm files.
Manually load Mac Outlook database from any location.
Option given for manually loading Olm files given for required users, nevertheless.
Supports the conversion for all languages, including double byte characters such as Chinese and Korean.
Preserves every data while exporting Olm to Pst or Mac Outlook to Pst, such as headers, meta-data, properties, images, attachments, etc.
Preserves folder hierarchy to a tee.
Allows multiple Olm files conversion to Pst.
Supports big databases and files (tested for smooth conversion for 200 Gb data) without any trade-offs for the quality or performance.
Run very smoothly, and convert files at whirlwind speeds.
Merge multiple Olm files to a single Pst file (optional).
Let users manually limit the Pst file size; the tool then splits files larger than the set limit.
Contacts calendar entries and contacts as well.
Allows users to merge multiple contacts and multiple calendar entries into respective 'default' folder.
Special treatment to contacts conversion, ensuring all 50 fields in contacts are converted without loss of information.
Convert only selective folders to Pst by simply marking their respective folders.
Filter folders based on the type of items they contain, such as emails, contacts, or calendar.
Hide empty folders and ignore them from conversion.
Full Conversion Report detailing every item processed.
What the List Means While Exporting Olm to Pst?
Some of the features stated above might be self-explanatory, and it should be perfectly clear what they mean, and how the feature holds up in the practical world while exporting Olm to Pst. Or if it has any practical value during migration or not.
Some of them might not be very apparent in their meaning or value. Or it might not be clear how big a difference these features make in the ultimate scheme of data conversion. Let's take a look at few of those features and what they mean to a user.
Auto-load Mac Database –
This has been touched a few times in this article and many other times in our blog.
To quickly summarize it, this option makes it much easier on user because it removes any requirement for Olm files. You don't have to go through the archiving process.
Secondly, directly converting emails or other items from the identity folder of mac Outlook increases the precision and sharpness of converted Pst files multiple folds.
 Thirdly, and quiet obviously, it makes the job finish quickly.
Manually load Olm or Mac Outlook database from any location –
Your data might already be in Olm files, and not in Mac Outlook identity folder.
You might not have installed Outlook, but do have Olm files that you want to convert.
You might have received Olm files from someone.
There can be many cases where the conventional approach for exporting Olm to Pst files might be necessary. For all those cases, this manual 'custom' option will do the job. You can also manually load the database folder from backup disc or any other location.
It's not difficult to see why this is a very important feature. When emails were first invented, the first thing that came to mind was "How easy it would be to communicate long distances".
And yet, when it comes to Mac Outlook to Pst conversion (or any other email migration, for that matter), most tools fail to preserve the emails in languages other than English.
This is due to the industry standards for encoding text for machine language. With "Olm to Pst Converter Ultimate" you get every unit of the text in your emails exactly as original with no distortion or loss of words and characters.
Preserves Folder Hierarchy to a Tee –
In modern world, we all receive so many emails that without arranging them to personally created folders, it'd be impossible to manage them. Desktop email clients like Outlook makes this job more intuitive by allowing the simple drag-and-drop method to move an email to a folder. Over time, this list of folders become sophisticated, with sub-folders inside folders, creating a complex hierarchy, like a tree-structure.
Imagine losing this hierarchy. Imagine all emails inside one big folder called "inbox" or "default" or such. Definitely not a pretty picture. And yet, preservation of folder hierarchy apparently seems to be the lowest priority for most tools for exporting Olm to Pst.
With 'Ultimate', it gets solved, and its direct approach makes it even more safer for your folders hierarchy.
Supports big files and databases –
The anxiety takes it toll when the emails to be transferred are huge in number. Or the overall size of database is massive, may be due to lots of attachments or any other factor.
Exporting such Olm files to Pst is an immeasurably enormous task. Most converters do not support such conversions. You have to split the database or convert one small Olm file to Pst one at a time. Few converters that seemingly support large files conversion compromise with the quality and the overall performance.
On the other hand, the 'Ultimate' tool has an impressive algorithm to deal with any number of files and their sizes AND there are no trade-offs with the quality. To a user, it looks no different, other than may be few more minutes for conversion.
Split Pst files –
There is an option in the tool for Maximum Pst file size. This instructs the tool to limit the size for the converted Pst file, and split the file if it goes over the limit. In essence, it can split large Pst files, where 'large' is manually defined by user.
Why is this important?
Windows Outlook has a awful habit. It doesn't upload or import large file Pst files. If it somehow does import them, the data imported looks nasty. Much of the information fidelity seems to be lost. The end result feels just like the regular Olm to Pst conversion tools convert the data.
"Olm to Pst Converter Ultimate" avoids this by splitting large Pst files. If you don't want to split anything, keep '0' in the box (not recommended).
Export Olm to Pst Free – Give it a try here!
The free trial version of "Olm to Pst converter Ultimate" can be used to check out its features and performance. All the features are allowed to use, such as auto-loading and manually loading Olm files. The links are given below to download.
Save
Save
Save