The most common road to take while exchanging data from Mac to Windows Outlook is converting Olm to Pst. There are many third party tools that can convert the files with Olm extension to Pst extension. And they have been working quiet well.
Olm is a file format used by Mac Outlook to store/archive data. It is used for various purposes such as backup and transferring data. If you don't have Olm files already, you can easily create it using Mac Outlook's export feature, as explained in the steps below.
Go to 'File' → 'Export'. Select the category you want to export or archive, follow the instructions, and click 'Save'. Be aware that it will ask you if you want to delete the items archived from Outlook after they are archived. Check No if you don't want to delete them. Choose the location where you want to save the Olm file.
This Olm file is used by most of the converters that convert it to Pst file. This job of converting .Olm to .Pst is necessary because windows Outlook cannot directly import Mac compatible Olm files; only Pst is supported. This often times surprises the users who aren't experienced with email migration, and thinking of moving to Windows Outlook.
The simple approach of Olm file to Pst has worked well in the past. However, only because there were no other means of data migration. So there was no reference to judge the efficiency of Olm to Pst conversion method.
Furthermore, there is always manual data migration method one can employ, which requires you to manually create a new IMAP account (such as, Gmail), and use it to sync the data across both clients. But there are countless accounts of users trying this and not getting satisfied results. It's lengthy and tedious, uses quiet a lot of internet bandwidth, and is cumbersome.
Olm to Pst Converter Ultimate – Smart Solution for Data Migration
"Olm to Pst Converter Ultimate" is a product by Gladwev Software for transferring emails, contacts, calendar, and everything else from Mac Outlook to Windows Outlook.
But why is it different from the others? The answer to that is given below.
Instead of extracting data from Olm files and converting Olm to Pst, it automatically detects the primary database folder for Mac Outlook client where your emails and other items are stored. It first of its kind that can directly target the identity folder and follow the conversion of data right away. Many unnecessary steps involving data archiving to Olm files are removed, making the overall task not only quicker, but also more accurate.
Very Intuitive – As Compared to
Convert Olm to Pst

files through traditional ways

Email migration sends an uncomfortable feeling down people's psyche. It is considered as complicated, long, and a risky process, frequently leading to severe corruption of files. This impression is also the direct result of the interface of most of the olm to pst converters in the market.

Now, with 'Ultimate', the whole job has been simplified to bare bones. Even the users who have literally no information about how to convert Olm to Pst free file, or how to perform any type of data migration, will have no trouble getting through with this.

Using 'Ultimate' and all of its features feel as natural as doing any other task. There is no learning curve, and even the beginner can begin the conversion instantly using the simple graphical wizard. The screens an all the buttons are self-explanatory. Forget the tedious job of archiving everything to Olm files. Let the tool auto-detect the Mac Outlook database itself, and help you increase your productivity.
Consistency and Accuracy Throughout – how to convert olm to pst free
"Olm to Pst Converter Ultimate" is surprisingly thorough in the way it loads the data and converts it into Pst format. There is a huge difference in the accuracy of converted Pst files between 'Ultimate' and other tools that converts Olm to Pst files. This unprecedented quality in the accuracy of the output is also the effect of directly loading Mac Outlook database.
You can test the validity of this fact by archiving your data to Olm files two or three times. Do not change anything each time you archive the data. Notice that all of 3 Olm files storing apparently the same data are different in files? This means that some of the information are always modified in Olm files in an unwanted way every time. It may either be lost or corrupted. Now imagine converting this Olm file to Pst. Clearly, the converted Pst file wouldn't be so accurate either.
It has been observed that ordinary tools for converting Olm to Pst files miss information or items, or do not convert them properly, such as – Embedded Images, Folder hierarchy, email attachments, non-English characters, read/unread status of emails, nested messages, etc.
You won't find any such distortion of data with 'Olm to Pst Converter Ultimate'. It cleanly converts every single byte of information for Pst format compatible with Windows Outlook, and the loss of integrity is simply miles away.
Wan to Convert .Olm to .Pst The Usual Way?
At this point, if you are wondering you have only Olm files, and no Mac Outlook database, you might be worried.
Some of you might be interested in simple Olm to Pst conversion. Or the database folder of Mac Outlook might be in some other location other than default installation location. All these situations do not take use of the 'Ultimate' feature of auto-detecting identity folder. Here, you'd need the traditional way of migration of manually loading Olm files.
The good news is that this software can do that as well. It's like having your cake and eat it too.
Basically, when you click on 'Load', it gives you two options – Express and Custom.
Express is the recommend option to auto-detect the database. 'Custom' is for manual loading. When you click on custom, you get further two options –
Olm file
Outlook database/identity folder
You choose 'Olm file' in case you have the Olm files. And choose the 2nd option in case you have the full Mac Outlook database in a backup disk or some other location.
The benefit of choosing manual option is that you can load multiple Olm files and convert them to Pst in one go. The tool is capable of managing heavy conversion jobs without bargaining with its quality and performance.
Start Converting Olm to Pst File in both Mac and Windows
…or Mac Outlook to Pst file!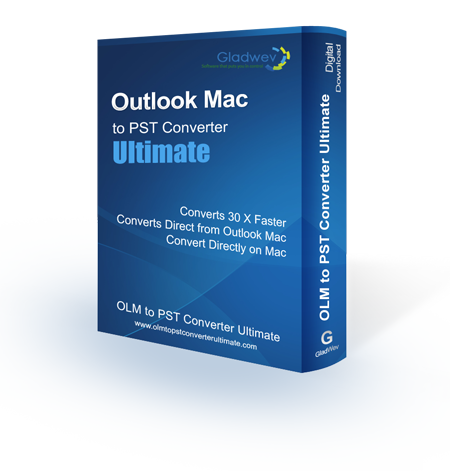 Whatever situation demands of you. "Olm to Pst Converter Ultimate" is ready to tackle any sort of conversion task you throw at it. One of the advanced, most unique, user-friendly, and accurate tool will facilitate the conversion process for you.
It comes in different packages to satisfy different types of users and environments it needs to be installed in, such as Individual, Household, Commercial, Enterprise, etc. Each of these packages are similar in features wise, that is, they will do everything mentioned above. The difference is in the number of machines they can be installed in.
With these packages specifically tailored for several kinds of customers, there is also a free license, which can be used for trial purposes. The trial setup copy can be downloaded using the links below. It limits the conversion to 10 items per folder while converting Olm to Pst, or from Mac Outlook database to Pst.
Furthermore, you will also get Windows edition free that can convert .Olm to .Pst files. Keep in mind that it is for Windows, therefore it won't be ab

le to load Mac Outlook database directly (quiet clearly).

Save
Save